How do I file claim?
The buyer is able to escalate the dispute 3 days after you openned the dispute.
To escalate the dispute, the buyer needs to sign in and click on "My Orders"on the home page (tab is in the uppermost tool bar). This will bring the buyer to all orders he or she has made on AliExpress. On the right-hand side of the order in question will be several options for the buyer. One is "Escalate dispute", Click on the button.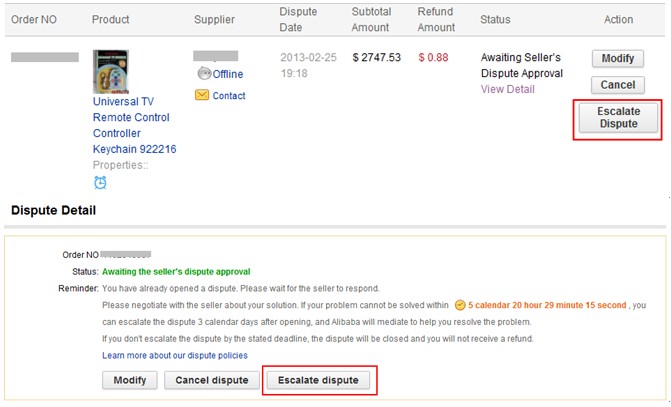 After clicking on the button, hit " Escalate dispute". Your claim will go to the AliExpress Dispute Team for mediation.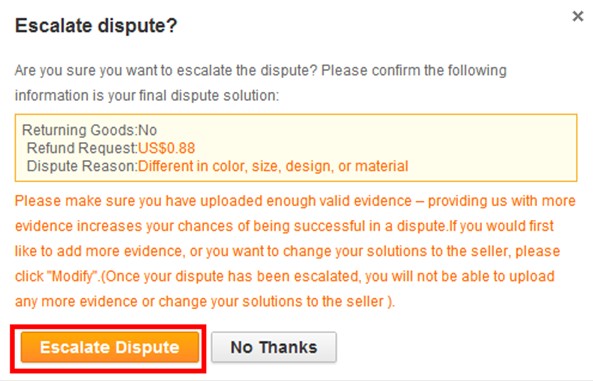 After buyer Escalate Dispute, please sign in to the Complaint Center "http://channel.alibaba.com/complaint"or click View Details on the transaction details page to view the latest update/status of this complaint. There are 3 optional ways to help sign in to the complaint center
1. Click the link: http://channel.alibaba.com/complaint
2. On the dispute Transaction Details page, click Complaint Center

3. Go to AliExpress.com , click Help- Submit a Complaint on the right top

AliExpress dispute team will give out the suggestions and help solve the problems. If AliExpress needs your response, please click "respond now".
If both seller and buyer have made an agreement, please cancel this claim. However, please note that once your complaint is cancelled, your case will be closed.

The suggestions from dispute team

Respond now:
Cancel complaint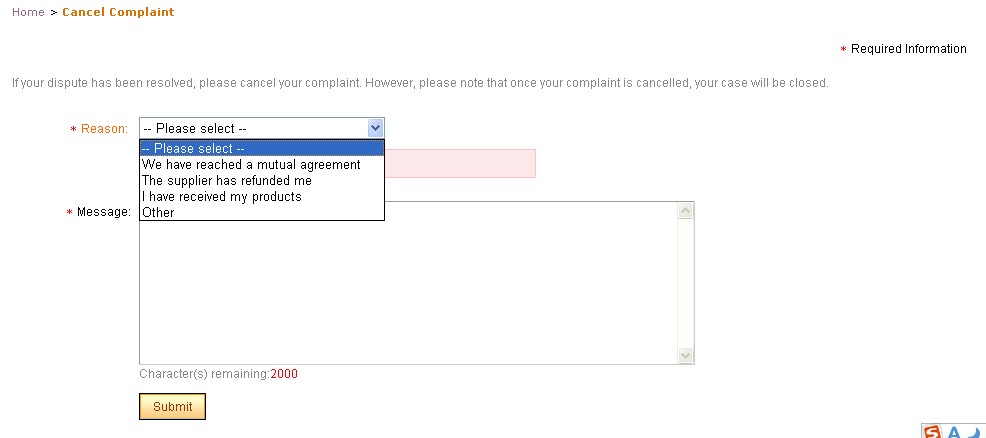 The list of all the complaints

How Claim Process Works
Once a claim is submitted, the buyer should also provide AliExpress with any documents regarding ordering, shipping and delivery as well as any other transactions and correspondence relevant to the dispute. Remember to keep originals and send copies of any evidence just in case anything is lost or misplaced.
The supplier has an opportunity to appeal the claim filed by the buyer. If so, it must also present AliExpress with any evidence it has regarding the order. The dispute team will then gather all evidence and judge each case according to all documents and accounts presented. It will contact both parties in a reasonable time frame of its decision. All decisions by the AliExpress Dispute Team are final.
Before we proceed, both the buyer and the supplier should understand the following:
Partial Refund
If the buyer wants to settle for a partial refund, he/she can contact the supplier and negotiate the refund amount. AliExpress can help in the negotiation once each party has determined the amount that is acceptable. A partial refund will allow the buyer to keep the shipment.
Full Refund
If the buyer decides to request a full refund, he/she must return the shipment to the supplier. Please note that the buyer is responsible for this shipping cost. Before the buyer sends the package back, please confirm the shipping address with the supplier.
Was this page helpful? If not,Contact Us