How do I use my coupon?
1. First, check you have a valid coupon in your account
Go to My Coupons and click the Valid tab. In the example below, the user has one valid US $5 coupon:

The coupon value and validity period is shown on the graphic on the left; the usage rules are shown on the right. In the above example, the user can only use this coupon for 8 days (until 11 September 2012 19:53:47) and can only use it on orders over US $25 when paying with a MasterCard credit card.
Once you understand the rules of your particular coupon(s), you can start searching for products on AliExpress.com.
2. Choose the product you want to buy
After you have finished browsing AliExpress and found the item(s) you wish to purchase, click Buy Now or Add to cart and sign in. You will then be taken to the Order Confirmation page, where you will confirm your order and use your coupon.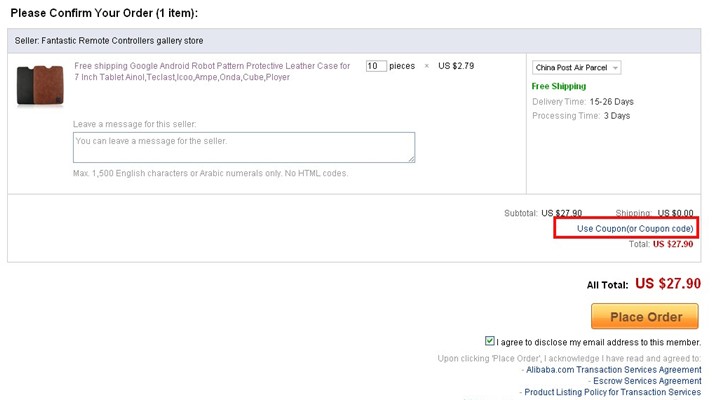 3.Use the coupon when you confirm your order
On the Place Order page, click on the link Use Coupon (or Coupon code)* (highlighted above). A popup window will appear displaying your available coupons. Select the one that you wish to use and click 'OK'.
Your total order price will change, reflecting the savings made using your coupon.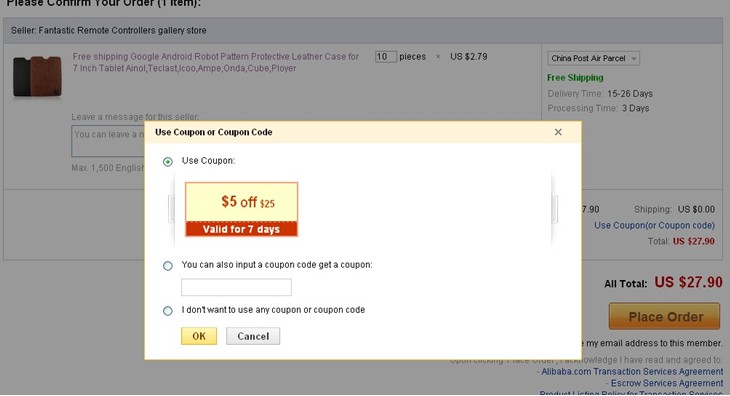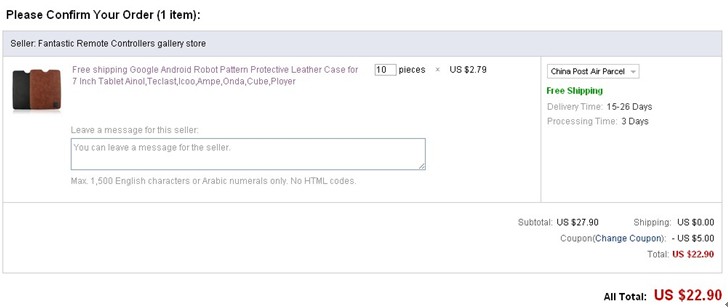 * In certain circumstances, when you click 'Use Coupon', no coupon will be available. In this case, please check your order total is at or above the value stated in your coupon's rules. If the value of your order is less, simply add more products to your cart according to your coupon's rules.
Was this page helpful? If not, Contact Us