How do I pay with Boleto?
Boleto is a payment option for Brazilian customers. You can find this payment method for orders below USD 3,000 per month. Your payment will be received to related order after you made the payment.
Boleto is one of the most popular online payment methods used in Brazil.
Before using Boleto, please pay attention to following tips to help make your transaction as smooth as possible.
1. Each Boleto transaction should not exceed US $3,000. This is due to limits imposed by the Central Bank of Brazil which sets the monthly limit at US $3,000 per person (CPF).
2. To prevent your Boleto transaction from expiring, please make the payment within 3 days after inputting your CPF.
3. It usually takes up to 5 days for any payments made on AliExpress to be processed.
4. There is a time limit for every order on AliExpress. Please check your order's expiry date on the order details page. To make sure AliExpress can process your payment, please make sure you make the payment at least 5 days before this expiry date.
5. AliExpress will be unable to accept Boleto payments made within 5 days of the order expiry date.
How to pay with Boleto:
1. Select Boleto on the checkout page.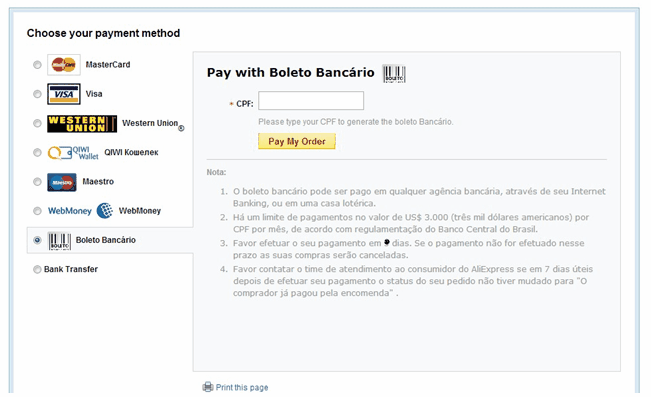 2. Input your CPF on the page.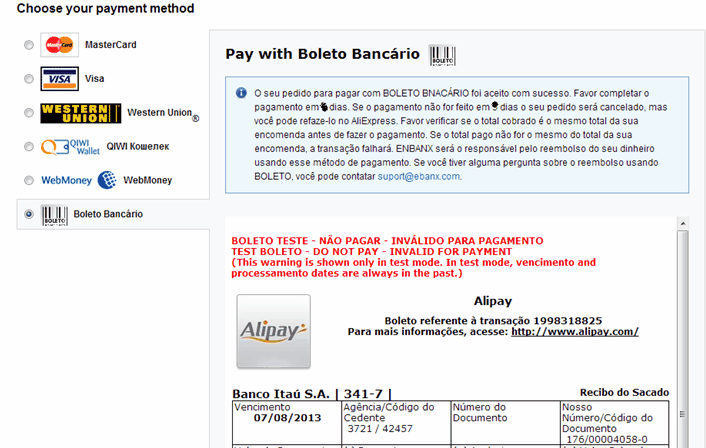 Was this page helpful? If not,Contact Us