<< Back to list
How do I set my shipping address?
To add a new address, please follow steps below:
1. Move your mouse to "My AliExpress" and click "My Orders"

2. Click "Shipping Address" in the left column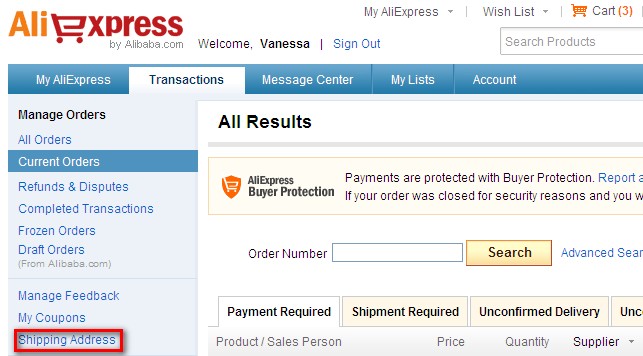 3. Enter your new shipping information under "Add a New Address"
4. Click "Save"
Shipping address should be in English
Since our website and service are based on English, all the information that you typed in is required to be English input method, including punctuations.
If certain letters of your address contain Non-English letters, you are advised to use the similar English ones instead. For example, you may change letter "?" to "c".
To make sure you receive your order smoothly, you can directly contact the supplier to confirm your shipping address. To contact the supplier, you may go to the product detail page or shop and click Contact Now to send a message. You can also click Chat Now! to chat in real time with suppliers who are online using our instant messenger, TradeManager.
Was this page helpful? If not,Contact Us